A List of Christian Colleges in Illinois
You've come to the right place if you are looking for Christian colleges in Illinois.  A Christian education is important.  This is where you begin the adult part of your life.  This will lead to a career, leaving the house, and one day, maybe, having a family of your own.  There is no time like the present to reacquaint yourself with God and the Christian community.
Trinity Christian College
"If we begin with Christ and continue with Christ, we have the assurance that we will be blessed."
–Junior College Society newsletter, 1956–
Trinity Christian College was established in Palos Heights, Illinois in 1959 by a group of young Christian businessmen who have always encouraged Christian living.  The college was founded as a Christian Reformed college, but they accept all people of Christian faith.  It began as a two-year college, but twelve years after it was founded, Trinity had its first baccalaureate recipient in May of 1971.
Trinity Christian College began with most students focusing on English and theology, but now it offers 80 different programs ranging from nursing to education.  The adult accelerated learning course was launched in 1999 in the fields of business, education, psychology, and special education.
Trinity Christian resides about 30 miles southwest of Chicago.  It offers both an undergraduate and graduate degrees especially suited for those focusing on the field of education.  There are accelerated courses designed for students to receive their professional educator license in two years.  Trinity Christian College also offers a special education degree which can be completed in 2.5 years if the individual has prior college credit.
The school has received high praises from many different organizations.  The Economist ranked it as one of the top 15 best values for Illinois.  US News & World Report praised it as a top tier college for 2016.  These are just a couple of the many high remarks this college receives.
Website: Trinity Christian College
Current President: Kurt D. Dykstra, JD
Mission Statement
Wheaton College
"For Christ and His Kingdom"
-Wheaton College Motto-
Wheaton College was established in 1860 in Wheaton, Illinois by Jonathan Blanchard.  This makes Wheaton one of the oldest colleges in Illinois.  The college was originally called the Illinois Institute but was later changed to Wheaton because of the generous land donation by Warren L. Wheaton.  Shortly after the establishment of Wheaton College, the United States plunged into civil war, and many students went to war in favor of the abolitionist movement.
The school has always been pushing for social reform.  Since its inception, it has been a liberal arts college and continues to be one today.  The mission statement proclaims that "Wheaton College serves Jesus Christ and advances His Kingdom through excellence in liberal arts and graduate programs…"  They consider themselves to be non-denominational Christian.
Wheaton College offers many degrees from ancient languages to urban studies.  The education to note though is the overabundance of masters degrees in the field of Christianity which includes Biblical Archaeology, Christian Formation & Ministry, theology, History of Christianity, and many others.  If someone was looking into pursuing Christianity as a degree, this would be the place.
Wheaton College has received high praises from organizations such as Business Insider, Kiplinger's, and 2016 U.S. News & World Report to name a few.  The Insider's Guide to the Colleges 2015 has even said, "Wheaton students… deeply value the way Wheaton has shaped them intellectually and spiritually."
Website: Wheaton College
Current president: Philip Ryken
Mission Statement
Trinity International University
Trinity International University's history is a bit different than most of the other colleges in Illinois.  Its creation can be traced back to 1897 where the Swedish Evangelical Free Church began a Bible course in the basement of a Chicago church.  In 1910, the department that founded the school withdrew and created the Norwegian-Danish Bible Institute and Academy.  After leaving they decided that Minnesota would be their home.  They first chose Rushford and then later moved to Minneapolis.  During the late 1940s they merged with a Norwegian-Danish school to create Trinity Seminary and Bible College, and wound up finding themselves back in Chicago.
The college and seminary in the 1960s decided to move to Deerfield, Illinois where the college and seminary remains today.  In 1992 the Miami Christian College was changed to Trinity College at Miami.  Trinity International eventually became the name of the school after the merge of Trinity College, Trinity College at Miami, and Trinity Evangelical Divinity School.  It appears that Deerfield will be the final move for Trinity International.
They are Evangelical Christian which is a branch of Christianity that is part of the trans-denominational movement within Protestantism.  Their mission statement reads, "As an institution committed to inerrant Scripture, given by God as our final authority for faith and life, we hold ourselves accountable to it and to each other with regard to these values as we cultivate academic excellence, Christian faithfulness, and lifelong learning."
Trinity International University offer a wide arrange of classes and degrees.  The school even has online classes for business, Christian ministries, criminal justice, and psychology.  They even offer an online masters program for Bioethics.  The only issue is that there are a couple degrees that are only available on their Florida campus.
Website: Trinity International University
President: David S. Dockery
Mission Statement
Greenville College
Greenville College had a history in Illinois long before its actual establishment.  Stephen Morse left New England and moved to Greenville, Illinois in the mid-nineteenth century where he met Almira Blanchard.  After her passing, he received an inheritance which was used to establish Almira College.  This college was founded on Baptist Christian principles and was strictly female students.  23 years later James Slade became the owner and implemented a co-ed institution.
A few more decades went by and the lay leaders of the Free Methodist Church purchased Almira College and reincorporated under the Greenville College Corporation.  The first graduate was in 1898.  The college has only had twelve presidents in a 110-year history.  Now that definitely says something about the leadership.
Greenville College remains a Free Methodist institution.  Their education promotes a "Christ-centered education in the liberal arts, sciences, and professional studies."
Greenville offers over 70 degrees to choose from.  These degrees are anything from Jewish-Christian studies to a masters in marketing.  This is perfect for someone who wants to go to a Christian college or university but wants a wide variety of career choices.  One of the things that makes Greenville College especially unique is the size of the campus.  The campus is a mere 14-acres compared to some of the other colleges and universities which can be much larger.  This can be both good or bad depending on what size college you are looking for.
Website: Greenville College
President: Dr. Ivan Filby
Mission Statement
Judson University
Judson University is a branch of the Northern Theological Seminary.  The leaders, at the time, thought it would be better if the college became its own entity separate from the seminary.  The college was founded in 1963 on the Fox River in Elgin, Illinois.  Judson College got its name from Adoniram Judson who was the first missionary abroad.  He spent 37 years outside of the country.  Adoniram only returned once.  Judson College became Judson University in 2007.
In the college's lengthy history it has had only a handful of presidents.  The longest serving president was Dr. Harm A Weber.
The campus started off being very small at about 19 acres and have grown to over 90 acres since.
Judson University is of Evangelical Christian denomination that offers more than 65 majors, minors, and concentrations for those going for liberal arts, sciences, and professions.  They also have continuing education for non-traditional students.  This school might be a better option for a person choosing architecture as their career.  Judson has a few different options than the other Christian colleges in Illinois.
Judson has received attention from U.S. News and World Report as a Top Tier college in the Midwest.  They have also been viewed as a Military Friendly school from 2013-2016.
Website: Judson University
President: Dr. Gene C. Crume, Jr.
Mission Statement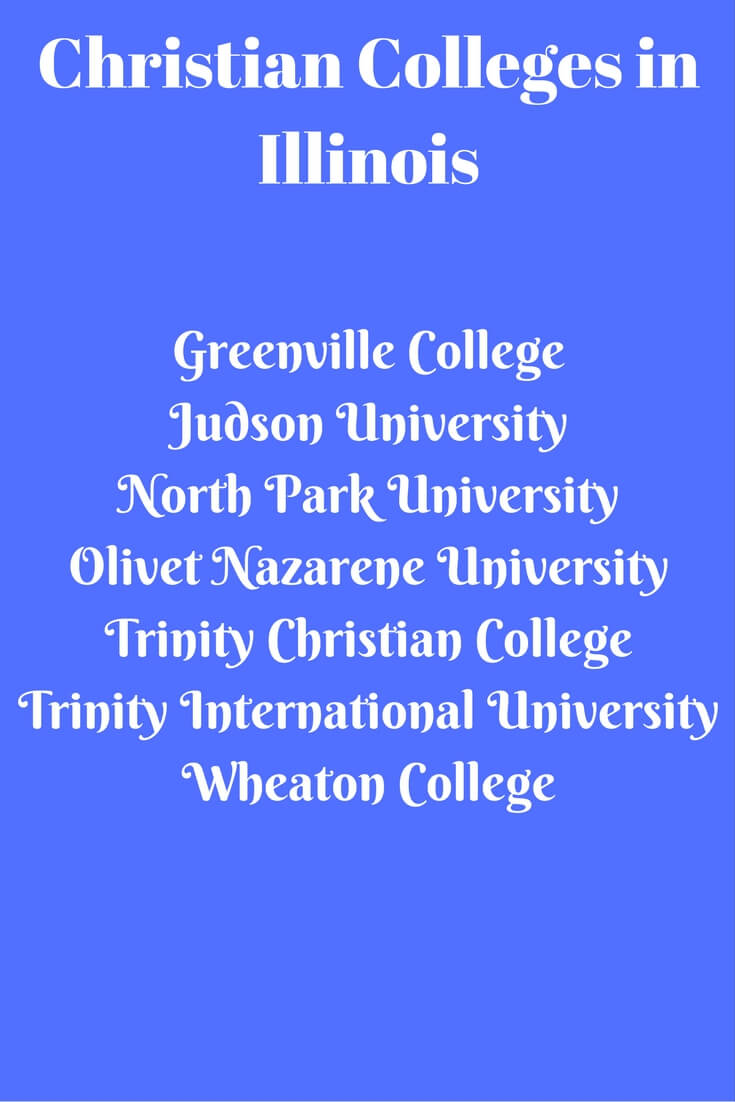 Christian College in Chicago – North Park University
North Park University was founded over 100 years ago by the Evangelical Covenant Church.  Unfortunately, when it comes to Chicago Christian colleges and universities, there isn't much to choose from.  I'm not saying that there is anything wrong with North Park.  There just isn't many options.  This is the only Christian university in Chicago.  Despite most of Chicago being relatively crowded, the campus is a decent size with 33 acres to call their own.  Seeing as the university is residing in one of the largest cities in the United States this provides an interesting dynamic to Christian education.
North Park has always promoted diversity.  The university is also very open to people of all creeds.  They have acknowledged that anyone who values education is welcome.  All teachers and professors are successful and all lead Christian lives.
North Park University offers a wide variety of degrees.  The school is mostly known for their focus on both the medical and humanities field.  They offer quite a selection of Masters programs as well.  Most of the graduate programs have less than 20 students which allows for a much more personal experience.  They also pride themselves on being affordable by stating on their website that North Park costs almost $10,000 less than the national average for a four-year college.
Website: North Park University
President: David L. Parkyn
Olivet Nazarene University
-"We believe you belong here."-
There isn't much known about the creation of Olivet except that it was funded by a group of families that wanted a higher Christian education.  Olivet Nazarene University was founded in 1907 in Bourbonnais, Illinois.
The university is massive.  It boasts 275 acres with about the same amount of students as North Park University.  Olivet also has other sites in Rolling Meadows and Oak Brook.  There are also locations in Grand Rapids, Michigan and Indianapolis, Indiana.  Unlike the rest of the Christian colleges and universities in Illinois, Olivet also has a presence in Hong Kong.
Olivet Nazarene University follows the service of the Church of the Nazarene, theologically grounded in the Wesleyan tradition.
The list of courses and degrees offered by Olivet is truly staggering.  The university offers anything from an associates to a doctoral degree.  These degrees cover nearly 120 fields of study organized into seven schools and one college.  Students also have an opportunity to study in many different locations such as China, Russia, and Uganda to name a few.
Website: Olivet Nazarene University
President: Dr. John C. Bowling
Mission statement