Do you need a prayer for pain?  When we are living in pain, we just want the pain to go away.  We all know that living with this feeling everyday can be both physically and emotionally trying.  This is why we turn to prayer to help make the pain go away.
Sadly, suffering is something that everyone goes through.  Just remember what Jesus endured and the suffering He went through to help everyone but himself.  Jesus was betrayed, attacked, defamed, and inevitably killed in one of the most heinous forms of execution – crucifixion.
Short Prayer for Pain Relief
Lord God, I hurt all the time.  I know life can't be perfect.  It is at this time I confide in you.  Please ease my suffering even if it's only for a short period of time.  I try not to ask for much, and I'm usually asking for the help of others.  We all try not to be selfish, but at this particular time I really need some relief.  I have been your humble servant for a long time now, and all I ask is that you not necessarily reduce that pain, but make me strong enough to endure it.  Please hear my prayer.
Amen.
Prayer for Pain Relief for Oneself
Almighty Father in heaven, you are the rock and my salvation, my fortress, and redeemer in whom I take refuge.  I come before you today because your word assures me that you are near the brokenhearted and that you save those crushed in spirit.  You are all knowing and you can see the hurt and agony I experience.  Ever since this began, I have been in and out of hospital seeking treatment, but the pain does not seem to go away.  I thank you for your grace and the gift of life.  I proclaim that you are my Healer.  Today, my Lord, I beseech you to send your word and heal my body from all this suffering.  Restore to me the joy of my salvation, and use my body as a living testimony to your healing power.  I repent any evil action I might have done to displease you, and I ask you to heal and relieve my body of this pain.  I rise against any wiles of the enemy, unbelief and doubt regarding your incredible power, and I hope that I am relieved of this in Jesus' name.
Amen.
A Prayer for Pain for a Friend
Lord of Lords and King of Kings, I thank you for your grace and mercies in this day you created.  You comfort us in times of trouble so that we can comfort others in their hour of need.  This day I dedicate my dear friend to you.  He is going through troubling times and is in a lot of pain.  The pain is preventing him from carrying out everyday duties.  As well as fulfilling his purpose for your kingdom.  You see even the deepest secrets of our hearts so if his suffering is as a result of his actions I intercede and repent on his behalf and ask for your mercy.  If the suffering is the work of the enemy, I claim your promise that states nothing formed against your will shall prosper.  Let my friend's pain be the means through which your glory gets displayed.  Let his situation work out in his favor according to your plan.  I confess your healing power, and rise against the spirit of infirmity and suffering and declare that his or her body receives total recovery from pain and suffering through the name of our Lord and Savior Jesus Christ.
Amen.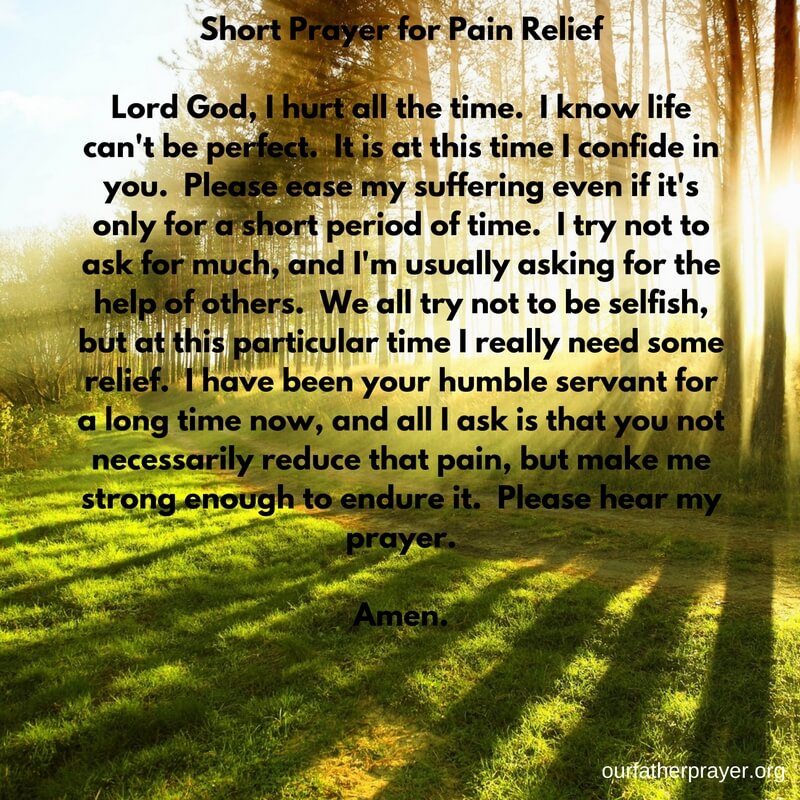 Prayer for Pain for Oneself
Dear God, the author of our faith.  I thank you for your gracious love from which nothing can separate us.  Whether it is life or death, victories or losses I know you are present in my life each day.  Your love surpasses all things.  You encourage us to be anxious about nothing.  Through prayers, thanksgiving, and supplications we should let our petitions known unto you.  I know that as long as I am in this world I will endure pain, suffering and even get persecuted for the things I believe.  I thank you because you protect the ones you love, and your word is always genuine and unfailing.  You said you would be with me in times of pain and suffering.  When I pass through the fire the flames will not consume me, nor the waters overwhelm me as I walk through the rivers of life.  My Lord and my Savior, my body, is overcome with pain, I am in distress.  I call upon you to establish your word.  Send your healing word to relieve me from this pain.  Remove the pain and restore me back to my joy, vitality, peace and happiness so that I can testify to your wondrous deeds and mercy.  Your will be done.  I say this in the name of our Lord Jesus Christ.
Amen.
"Make sickness itself a prayer."
-St. Francis de Sales
A Prayer for Recurring Pain
Lord, I lie here once again.  I try to keep my head high while spending time with friends and family.  I know that I have you and them, but the pain can be overwhelming at times.  It makes it difficult to go about my day-to-day.  I will remain strong, because I know you are there with me.  Please continue to stand beside me during these painful times.
Amen.
There are a lot of people in the world that are suffering from one pain or another.  It can be in the form of emotional abuse, physical ailments, or a spiritual issue.  It is important to remember that some people have it much worse than us, and we need to look out for these individuals.
The National Alliance of Mental Illness is a great organization to helping those who suffer from mental illnesses.  This is an extremely difficult situation for not only those suffering for the mental illness, but the friends and family of the one affected.
I hope that a prayer for pain treats you well and helps you or your loved one deal with you/their current health issues.