Prayer for Friends
Heavenly Father, I offer you this prayer as a sign of gratitude.  I would like to let you know how happy I am that you allowed me to cross paths with people who are now my most trusted friends.  Life wouldn't be the same without them.  They make me happy every time we are together.  I am able to show my true self when I'm around them.  I am so blessed that I don't need to pretend being someone else, because they love me just the way I am.  We have gone through ups and downs in our relationship.  We've had misunderstandings and arguments which have built barriers and hindered our friendship.  It can be a difficult time, but it makes us stronger in the end.  Through it all Lord, you never failed to be by my side. You showed me the way when I was worried and confused.  You comforted me in my times of trouble.  It's good to know that you are here for my friends and I.  They are very important in my life.  They will continue to inspire me, and help me better person.  I learned that in order to fully enjoy life strong friendships are essential.  I know that I have met these people for a reason.  I truly believe that they have a major role to play in my life.  I know it is you that helped guide us together, and I will always thank you for that.  Continue to help me build a stronger bond with them so that we can remain friends forever.  Please, here my prayer.
Amen.
Prayer for a Best Friend
Dear Lord, my best friend is truly an amazing person.  She has always helped me reach my fullest potential by pushing me to my limits.  Through this, she has increased my confidence and allowed me to set bigger goals for my life.  I am so thankful for her.  Without her, I would not have surpassed the difficult situations I have faced in the past.  My best friend is not only a confidant, she is also very honest and helpful.  I am glad to know that I can depend on her anytime I need someone to talk to.  I consider her to be part of my family.  Our bond gets stronger as each day passes.  We tell each other our ideass and secrets.  I know you have a purpose for both of our lives.  I know that in my heart that this individual will be my companion in fulfilling my duties as a Christian.  Keep her safe from harm.  Bless her with your loving grace and compassion.  Shower her life with your abundant blessings.  Continue to guide her on a righteous path.  Protect our friendship so that we may have many more exciting years together.  Provide me with the wisdom and knowledge to guide my best friend to the path leading to goodness.  Help my best friend realize how much you love her.  I can't thank you enough for such a unique and fulfilling friendship.
Amen.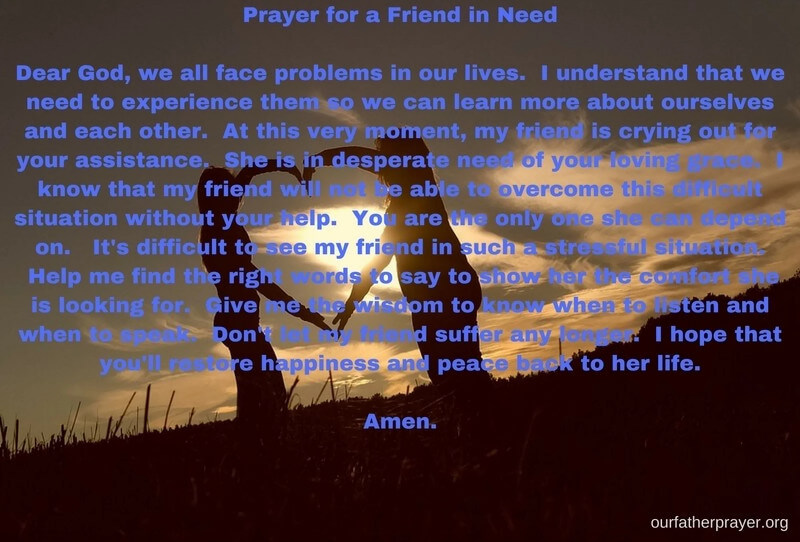 Prayer for a Troubled Friend
Merciful Father, my beloved friend is currently experiencing a very difficult situation.  He is very troubled with a certain situation that will require you guidance to resolve.  In these desperate times, please be by his side.  My friend needs your wisdom.  You are the only one who understands what he is going through right now.  Please help ease his suffering.  As a friend, I want to offer the very best to comfort him.  In a time like this my comforting words aren't enough.  I know that you're the only one who could assist him.  Hear my plea so that my friend's suffering will end.  It's difficult for me to see him in this position.  I am trusting your mercy and compassion to provide light amidst this darkness.  Let my friend feel your holy presence.  Make him understand that you have a plan for his life.  I know that you give us challenges and trials so we can become stronger individuals.  You are our one true God, and I trust in you. You have a reason for letting certain circumstances happen.  I know that you will be able to take my friends' worries away.  You are compassionate.  Strengthen him during this difficult time.
Amen.
Prayer for a Friend in Need
Dear God, we all face problems in our lives.  No one is exempt from facing life's daily obstacles.  I understand that we need to experience them so we can learn more about ourselves and each other.  Each challenge we face lets us learn a valuable lesson.  At this very moment, my friend is crying out for your assistance.  She is in desperate need of your loving grace. A very important aspect of this person's life is troubling her mind.  She needs your guidance.  I know that my friend will not be able to overcome this difficult situation without your help.  You are the only one she can depend on.  Her family and friends have been doing what they can, but no one can help her like you can.  Help my friend stay strong while battling this overwhelming obstacle.  Shower her with patience and hope so that she may feel that she is not alone.  It's difficult to see my friend in this stressful situation.  Help me find the right words to say to show her the comfort she is looking for.  Give me wisdom to know when to listen and when to speak.  I am offering the very best to help my friend.  Please hear my plea, dear Lord.  Don't let my friend deal with this any longer.  I hope that you'll restore happiness and peace back to her life.
Amen.