Are you going through a tough time?  Are you having problems at home?  Do you feel abandoned?  Here are a few prayers for hope and strength to help pull you through rough times.  It is very important to turn towards God during these times.  It is though him we can find the hope and strength to push forward.  We need to remember to put faith in the Bible and its teachings.  Without it we are lost.
Prayer for Hope After Losing a Job
Dear Heavenly Father, for a long time now many things in my life seems to be falling apart.  Ever since I lost my job, getting by is a daily struggle.  My spouse and kids look up to me for provisions, and I am no longer sure of what to do or tell them.  The bills too have piled up, making it difficult for me to meet my financial obligations. My friends and colleagues also no longer desire my company and some of them openly mock my salvation.  Dear God, I know you are all knowing and can see all that I am enduring.  Everything around me tells me that I should give up and compromise to get out of this predicament.  But your living word affirms that you know the plans you have for us. Good plans for peace, hope and a future.  I believe in your word, and that is why I come before your throne of grace today. Lord, kindly hear my prayer and deliver me out of this predicament.  I know I have not led my life blamelessly before you and I repent of that.  Still, your hand is not too short to deliver me.  Dear Father, forgive me for all that I have done which put me in this position. Wipe away every tear, despair and hopelessness from my life and that of my family members.  Do not put me to shame before those who incessantly ridicule my salvation.  Instead, use the situation to manifest your faithfulness and mercy.  Lord, you are my shield, and I know there must be a reason you sustain and wake me up every day. So today I put my trust in your unfailing love, and word that no eye has seen, or ear heard the things you have prepared for the ones who love you and called to your purpose.  I claim that promise, and I humbly pray that I may see your goodness while in the land of the living.  It is in Jesus' mighty name that I do pray and believe.
Amen.
Prayers for Hope for a Friend
My Heavenly Father, I thank you for this opportunity to come before you.  My friend has been going through some rough times recently, and she is now struggling.  She is feeling unwell and has not yet recovered from the recent turmoil in her life.  In her heart, she has many questions that only you can answer.  She is trying so hard not to be bitter, but she is desperate and hurting.  Dear God, in your word you promised that all things will work out for our good, however in times like these it is hard for us to understand or even come to terms with that promise.  Nevertheless, you caution us not to lean on our understanding, but to put all our trust in you.  Lord, I put my confidence in you.  You are our hope, refuge, and strength in times of need. I, therefore, ask that you give my friend hope.  Forgive her for any wrong she might have done in her moment of pain, show her your mercy, and restore to her the joy of your salvation.  I place my trust in you.  We call upon you to fill that void in the life of our friend in your most caring and helpful way.  I ask you to turn her defeated attitude around.  In her moment of need, let the Holy Spirit comfort her, and your word to guide her.  Show her what she needs to do to get back on her feet, and quiet her tears with your endless love so that she may recover from being down.  Lastly Lord, remove any fear and uncertainty about the future of her life, and reveal to her your compassion, understanding, and power.  In Jesus name, I believe and I pray.
Amen.
Prayers for Strength During a Difficult Task
Dear Lord, I thank you for the opportunity to perform this task in front of me.  However the assignment is enormous and at times, it feels like I might fail.  So today I come before you in supplication asking you to give me the strength to carry it out successfully.  While others depend on their wisdom, connections and power, I choose not to rely on deception and duress, but rather to put my trust in you.  After all, your word reminds me that I can do all things through Christ who strengthens me.  My heavenly father, I take pride in the fact that I know you, and that you are my Savior.  My Lord, I know you give good things to your children and that when you call someone into ministry, you are gracious enough to provide them with the ability to carry it out.  Lord, you are my banner.  I don't want to fail or disappoint those who entrusted me with such responsibility.  Use me to showcase your handiwork, so that people can acknowledge that truly someone who trusts and believes in you can do exemplary work.  I thank you because you have given us a spirit of power and a sound mind, which I have faith will help me accomplish the task ahead of me. Heavenly Father, be gracious to me, guide me, and direct my decisions each step of the way.  For you, my sovereign Lord is truly my strength who makes my feet tread on great heights.  Give me the strength to endure all challenges that come with the role, and when I succeed, let all glory and honor reflect on you.  I pray this believing and trusting in your Holy name.
Amen.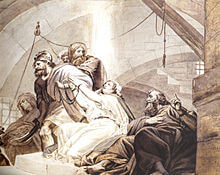 Prayer for Strength Against Evil
My Lord and Savior, I come before your mercy seat today with thanksgiving in my heart.  I thank you for anointing me to be your servant and work for you in the church.  However, Father, I am growing weary with each passing day.  I don't feel like my faith is growing and at times, I get overwhelmed. On other occasions, I feel discouraged, exhausted and ready to quit.  I come to you because I know you strengthen the weary, and you increase the power of the weak who put their faith in you.  Those whose strength you renew soar with wings like eagles.  My Lord, I believe you can do more than I can ever ask for or imagine.  I, therefore, confidently ask you to send your Holy Spirit to comfort and strengthen me in my Christian faith.  Forgive me for my fear and doubt.  I bind the spirit of fear, doubt, and apathy and declare that you are my redeemer and strength.  Give me the strength and courage to persevere all forms of persecutions, and the patience to wait upon you as you perform your divine miracles.  I put my trust in you, because I believe that you who called me will strengthen and equip me so that I can accomplish what is good in your sight.  Strengthen and use me to impact the world as you desire.  It is in Jesus' name that I pray and believe.
Amen.
Short Prayer for Strength
Lord, I have been feeling overwhelmed recently.  Life is not as simple as it should be.  Every day I am weakened by what I must face. I need to find my strength through you.  You are my fortress.  You are my keep.  Continue to give me the strength I need to make it through the tribulations of the day.  God, strengthen me.
Amen.
Hast thou not known? hast thou not heard, that the everlasting God, the Lord, the Creator of the ends of the earth, fainteth not, neither is weary? there is no searching of his understanding.
He giveth power to the faint; and to them that have no might he increaseth strength.
Even the youths shall faint and be weary, and the young men shall utterly fall:
But they that wait upon the shall renew their strength; they shall mount up with wings as eagles; they shall run, and not be weary; and they shall walk, and not faint.
Catholics may want to confide in St. Jude as well.  He is the patron saint of lost causes, and he may be able to help lead you in the right direction.