Prayers for Quitting Smoking
Almighty God, I come to you today asking for your gracious healing.  I am currently struggling to quit my smoking addiction.  Smoking has always been my way to relieve stress and forget my worries.  It acts as a temporary escape from my problems.  I have been a smoker for awhile now.  Even though my family and friends continuously advise me to quit, I've never listened.  I believed that it was my only way to feel free and happy.  It can cause dramatic changes to my body which may cause life-threatening health conditions.  I have lost friends and family to things that could have been prevented.  Lord, I know within my heart that it is not too late for me to make a positive change in my life.  I know that if I commit to it I can quit.  Please guide me in my journey to be free of this vice.  Smoking has been a part of my life for far too long.  I know that it is not going to be easy to achieve my goal, but I know you are there for me.  You are a God of mercy and compassion.  I pray that you will bless me with the courage and strength to get past this obstacle.  Please enlighten my mind to realize that quitting my smoking addiction will not only improve my personal life, it will also positively affect the lives of people around me.
Amen.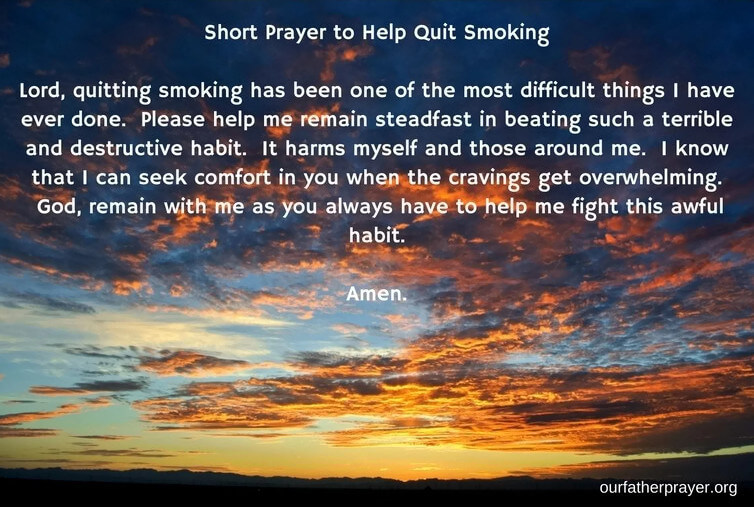 Short Prayer to Help Quit Smoking
Lord, quitting smoking has been one of the most difficult things I have ever done.  Please help me remain steadfast in beating such a terrible and destructive habit.  It harms myself and those around me.  I know that I can seek comfort in you when the cravings get overwhelming.  God, remain with me as you always have to help me fight this awful habit.
Amen.
Immaculata Prayer
O Immaculata, Queen of Heaven and earth, refuge of sinners and our most loving Mother, God has willed to entrust the entire order of mercy to you. I, (name), a repentant sinner, cast myself at your feet, humbly imploring you to take me with all that I am and have, wholly to yourself as your possession and property. Please make of me, of all my powers of soul and body, of my whole life, death and eternity, whatever most pleases you.
If it pleases you, use all that I am and have without reserve, wholly to accomplish what was said of you: "She will crush your head," and "You alone have destroyed all heresies in the whole world." Let me be a fit instrument in your immaculate and merciful hands for introducing and increasing your glory to the maximum in all the many strayed and indifferent souls, and thus help extend as far as possible the blessed kingdom of the most Sacred Heart of Jesus. For wherever you enter you obtain the grace of conversion and growth in holiness, since it is through your hands that all graces come to us from the most Sacred Heart of Jesus.
V. Allow me to praise you, O Sacred Virgin
R. Give me strength against your enemies
Amen.
A shorter version of the prayer
Immaculata, Queen and Mother of the Church, I renew my consecration to you for this day and for always, so that you might use me for the coming of the Kingdom of Jesus in the whole world. To this end I offer you all my prayers, actions and sacrifices of this day.
Amen.
Quitting smoking is difficult, but I know you can do it.  You wouldn't be here if you didn't really want to quit.  Seek strength in the Lord.  He will help you.