Prayers for Patience
Prayer for Patience
Heavenly Father, I come to you today asking for your help.  I feel devastated, because I'm finding it difficult to implement the virtue of patience.  In a world where everything has become instantaneous, it's almost impossible not to feel frustrated when things don't get accomplished immediately.  I am currently struggling to overcome this situation that I am faced with.  I need to understand that some things need more time than others.  I have noticed that recently I have been very impatient with various aspects of my life.  I know within myself that this is not a good thing, and I don't want to continue being this way.  I can feel in my heart that what I am doing is wrong.  Lord, I know that you're listening to my prayer.  You understand what I'm going through.  I pray that you will help restore the patience I once had.  I am fully committed to following your ways and teachings, so I can continue to become a better Christian.  Please enlighten my mind so that I could better comprehend that all good things take time.  Please bless me with your guidance and direction each day of my life.  Remind me that patience is an essential trait of a good Christian.  It's never too late to change for the better.  Lord, make me patient again.
Amen.
Prayer for Self-Control
Dear God, thank you for giving me this life.  It is a wonderful blessing.  I get to enjoy the beauty of your creation and the gift of family and friends.  I have always felt grateful for the countless opportunities you have provided for me.  Lord, right now I am fighting a serious battle within myself.  Having no self-control is dangerous to both myself and others.  It results in a disaster which I do not want to experience again.  It affects my family, friends and career. Whenever I feel angry at someone, it's difficult for me to control my feelings.  I tend to say words which really hurts the other person.  I overreact to situations which causes a lot of stress not only for me, but to the people around me.  Whenever I'm feeling disappointed, I lash out on other people.  Even if they didn't do anything wrong, I still manage to make it seem like it's their fault.  I get frustrated when situations don't go my way.  I should have more self-control now that I'm an adult, but sometimes I really need to reach out to you for solid ground.  You are the only one who can truly help me in this situation.  I would like to stop hurting my loved ones because of this issue that I have.  Please help me overcome this internal conflict.
Amen.
Prayer for Humility
Dearest Lord, I am very grateful for all the blessings you have given me.  Every opportunity that I'm given, every challenge which I have overcome, and everything that I accomplish is all for your glory.  Lord, I come to you today praying for the gift of humility.  Right now things are going very well for me.  I know it is through your blessings that I have got to where I am today, but sometimes I let this good fortune go to my head.  I shouldn't be this proud.  Even though there have been a lot of positives in my life, my pride is definitely a negative.  Please continue to be present in my daily life so that I will never lose my way.  Please keep me modest.
Amen.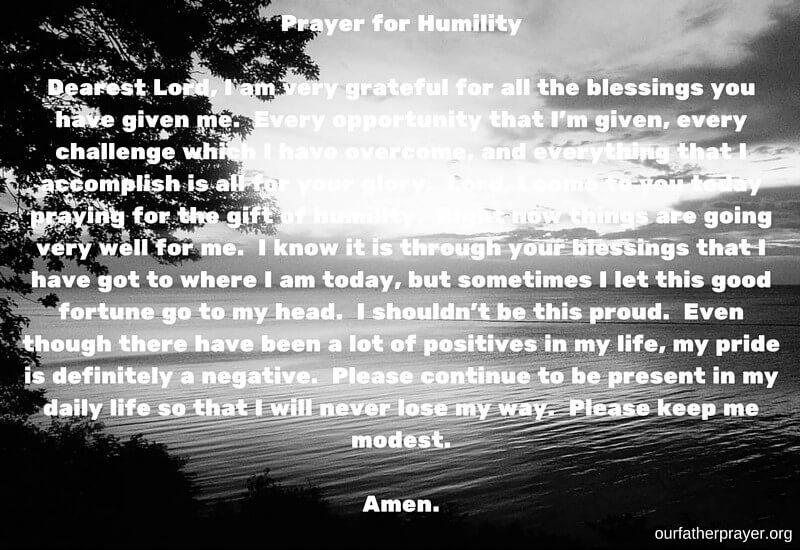 Prayer for Tolerance
Loving Father, I have noticed that it has been getting more and more difficult for me to be tolerant of people.  I used to be very good in understanding why people are the way they are.  I used to be smarter about my words and actions.  These days I have been very intolerant with people who do not share the same mindset that I have.  Whenever I am faced with circumstances where a person has a different opinion than mine, I seem to be getting much more upset than I used to.  I thought this was going to be temporary.  I'm tired of getting agitated by simple misunderstandings and problems.  Lord, you are a God who listens to your people's pleads.  Right now I need your constant presence in my life.  I don't know how to deal with this situation.  I have asked my family and friends for help and they have comforted me the best way they can.  I believe that you're the only one who can provide me the right amount of ease.  Please calm my spirit so that I could be more tolerant towards other people.  Help remind me that other people are entitled to their own opinions.  Lord, I never wanted to disappoint you.  I have always tried to be the best Christian.  Help me pause and take a minute to realize that I need to be more tolerant before reacting in certain situations.  Thank you for your outpouring love and mercy.
Amen.