Life can be mysterious, incredible, and fun, but there are times when things go awry and we find ourselves injured.  We are not perfect.  Not only can we be injured on a physical level, but on a spiritual one as well.  When you find yourself hurt, I hope you find some time to say some Christian prayers for healing.
Christian Prayers for Healing after Surgery
Loving Father, I have just recently undergone a major surgery.  My body feels frail and weak.  I get easily tired even when I'm doing the most basic activities.  My mind is troubled knowing that I'm not as strong as I used to be.  I pray that you will help me recover as quick as possible so that I can get back to my normal routine.  My family is counting on me to make a quick recovery.  I do not want to become a burden to my family members who have been taking care of my needs.  It's great to have people like them in my life who truly care about my well-being.  I appreciate all their efforts in helping me get well again.  Thank you for blessing me with such wonderful friends and family.  I hope that you will heal not only my physical body, but also the emotional scars I've endured during this experience as well.  I have high hopes that my surgery went well, and with your blessing I will make a full recovery.  Help me get back on my feet so I can become productive once again.  I believe in your healing grace and compassion.  I trust that with your help I will make a speedy recovery.  This I pray.
Amen.
A Prayer for Healing the Sick
Loving God, someone I know is extremely ill at the moment.  This person is experiencing so much pain.  No matter what treatment the doctors give him, his health doesn't seem to be improving.  You have worked numerous miracles in other people's lives.  Today, I come to you asking for the healing of this person who is very close to me.  I believe that it's never too late for you to intervene and get rid of any ailment.  It pains me to see him in such a difficult situation.  This individual is a part of my life, and I don't want to lose him to this illness.  My family and I have constantly been praying for your healing grace.  He desperately needs you right now.  You're the only one who can heal him.  I know that your ways are far greater than ours and that you know what is best for everyone.  If you wish for him to remain with us, provide this person with they healing he needs so he will no longer suffer.  He has always put his faith in you.  I believe in the power of prayers.  Even during these times of trouble, I have kept my strong faith in you.  Please comfort this person and ease his suffering, so that he may continue to spread your word.
Amen.
Prayer for Healing and Strength
Jesus, I come before you today with my heart full of gratitude for what you have done in our lives.  I hope it is your will that I remain strong and in good health, so I may continue to fulfill my purpose here on earth.  You went through such pain to save us.  You sacrificed yourself so we may find salvation.  I ask that you heal my body and soul of this pain, distress, and weakness.  You have healed so many people during your ministry here on earth.  That is why I approach you today with confidence that you will give me the strength to help heal my body.  Your power has healed the blind and sick.  You have even raised Lazarus from the dead to demonstrate your overwhelming power over death.  I will continue to ask for your healing.  Reveal your glory to me.  I will focus on my faith and my love for you during this time.  Soon I will be restored.  In your name I pray.
Amen.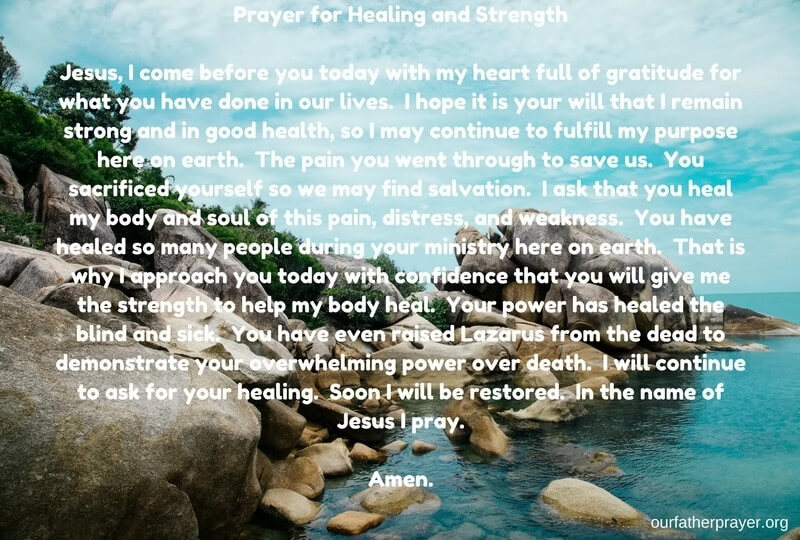 Healing Prayers for Children
Heavenly Father, children are a wonderful blessing you bestow upon a man and woman.  They bring so much joy into a couple's life.  They bring the family closer together.  Children are beautiful human beings.  They are innocent, clever, and energetic.  Today, I come to you in prayer asking that you heal the children of the world.  Some of them may suffer from a great deal of physical, emotional, and psychological issues because of how they are treated by people around them.  There are many stories about how parents mistreat their own child.  It pains me inside to think that someone could abuse an innocent child.  As young as they are, they already have so much potential and can amount to anything.  If parents cannot provide their children with the right amount of love and care they will not develop to their full potential.  Lord, I know how much you love us.  I know that you will not forsake them.  Look after all the children in the world and heal their doubts and worries. May they continue believing in your Holy Word.  Bless their humble hearts and guide them to the right path.  Give them the strength to overcome any obstacles they may face.  Please heal their hearts and minds so that they may have a stronger faith in you.  This I pray in your holy name.
Amen.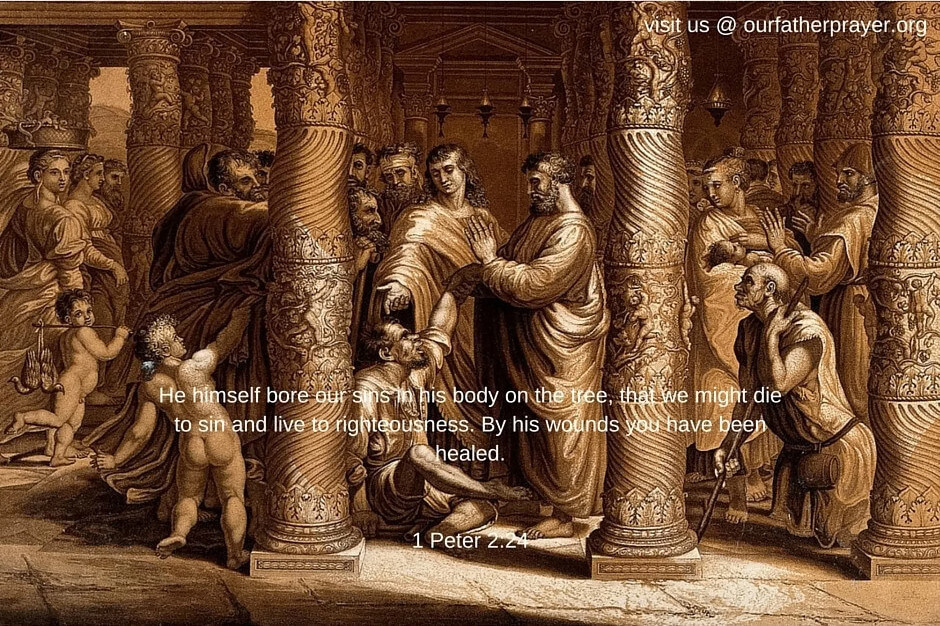 Healing Prayers for Others
Dear Lord, in the world today, people are continuously faced with challenging problems.  Every day, there are different obstacles we need to overcome.  There is so much negativity in the world.  Hatred is normal and betrayal is common.  People constantly compete with one another and they always end up hurting each other.  Violence is abundant all over the world. There are so many reported instances of murder, robbery, homicide, fraud, assaults, and theft.  I trust that there is still hope for the world.  We can still change for the better.  I truly believe that with your help, anything is possible.  You have worked amazing miracles, and I have my whole faith in you.  I pray that other people will think twice before they do anything that could hurt another person.  I pray that they would find it within their hearts to realize that what they're doing is wrong.  Please heal those who have been hurt either physically or emotionally.  Enlighten our minds about peace and unity so that wars and crimes could finally be put to an end.  I believe that change starts within ourselves.  If only other people would commit to becoming a good person and changing for the better, the world will be a much safer place to live in, and I wouldn't have to ask you of this today.  Please hear my prayer.
Amen.
Prayer for Healing Relationships
Lord Jesus, you are the source of all relationships.  You forged a relationship with me very early in my life.  I know how important it is to have a relationship with you and the people around me.  You created us to depend on one another.  We need each other for survival.  I humbly ask that you bring healing to our broken relationships and bring comfort to our hearts.  Help us to cease blame so that we may be able to be unified once again.  Work out our differences with love.  Change our character and our selfish attributes that bring strife among us.  Give me a forgiving heart so I can have the ability to reunite with my lost friends and family.  From this moment on, I ask you to give me understanding and patience to live with one another, so I can have a better time preserving friendships.  Help heal these wounded and broken relationships.  I know that through you they will be restored.  Thank you Lord for hearing my prayer.
Amen.