Tuesday Morning Prayer
Lord, thank you for the gift of another day.  You have given me a chance to represent you on this earth today.  Thank you for taking care of me throughout the night and giving me a good night sleep.  You have given us this beautiful world and the breath of life.
Father, I repent my sins of yesterday for I have sinned against thee.  Please forgive me of the sins that I will commit knowingly and unknowingly today.  Help me learn from my mistakes, so I don't offend you or others again.
Today, I give you my thoughts and actions.  Help me think about my choices so I can make the correct decision.  Have me heed to the voice of the Holy Spirit.  Help me to be an encouragement to those who are discouraged, and to lift those who are downcast.  I pray for those who find themselves lonely today that they may find comfort in you.
Please give me the spirit of wisdom and knowledge to handle all matters today with understanding.  I pray for my family members, my friends, and coworkers.  May they all have a wonderful day.  I hope that all of those who are displaced in the world that you may give them a place to call home.  I pray that this Tuesday will be a reflection of your awe and wonder.  In Jesus's name I pray.
Amen.
Prayer for Tuesday Morning
Lord, you have led us to a spiritually wealthy place beyond all material things.  You keep us alive, protect us, and guide us as our pathfinder.  As we go about our duties today, show us that you truly love and care for us.  Lead us on and push us through the different times in life.  In our hearts, you remain our King; in our lives, you are our Eternal ruler.  Make this day a blessed and favorable one.
You began the week with us and I want to say thank you for the day you have given us so far.  We commit today into your hands because we know that you will preserve those you love.  We ask that you grant us our petition, and bless the works of our hands.  Each day we see you do great things for us.  We have seen you cast out demons and heal the broken.  We know that you hear the cries of those who call your name.
This is the day that you have made and it is our prayer that you make us rejoice and be glad in it.  Let everything be in our favor and may this Tuesday be bright, glorious, and blessed in Jesus's name.
Amen.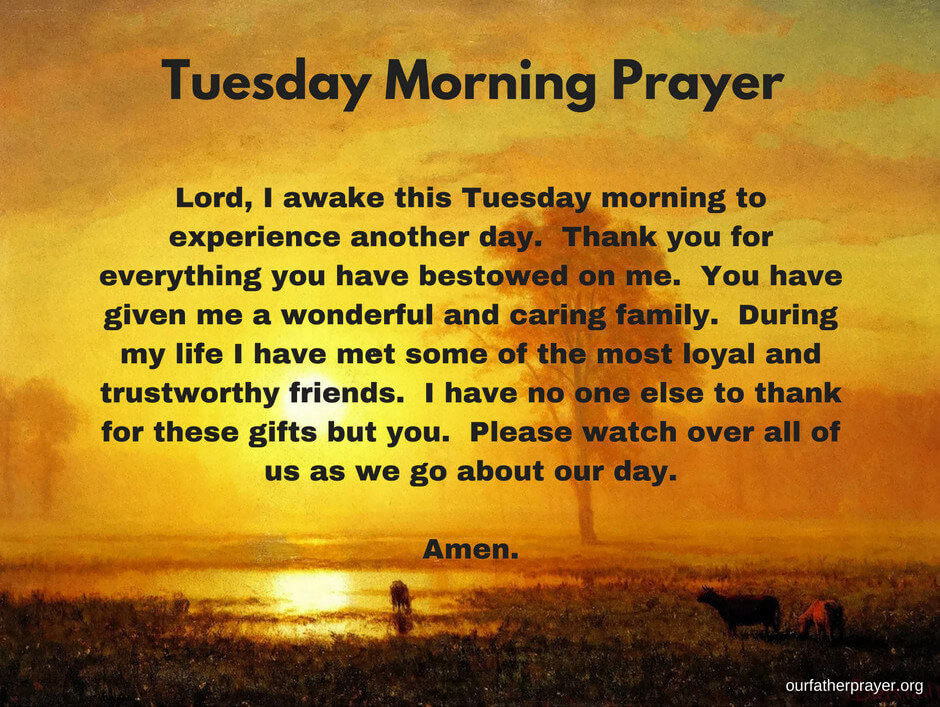 A Short Tuesday Morning Prayer
Lord, I awake this Tuesday morning to experience another day.  Thank you for everything you have bestowed on me.  You have given me a wonderful and caring family.  During my life I have met some of the most loyal and trustworthy friends.  I have no one else to thank for these gifts but you.  Please watch over all of us as we go about our day.
Amen.