Prayer for Coworkers
Lord, my Creator, I praise your name acknowledging that if it were not for your guidance, I would not be working here today. Today I ask for you to bless my fellow coworkers.  I ask you that you may meet them at every point of their need.  Bless their wives, husbands, and their children so they may grow in your favor.  Send your angels to help us as we struggle every day at our workplace to meet our daily needs.  We need patience and the grace that comes from you to be able to work with one another efficiently.  Let us continue to have good intentions for one another as we carry on with our work.  It's good to see each other grow in their field, because it brings us all a sense of accomplishment.  We want to grow to care about each other's well-being and happiness.  Keep us working as a team that loves to work with each other and communicate honestly.  Help us serve our customers with kindness and efficiency so their expectations will be exceeded.  Defend us against the work of the devil who brings jealousy, hate, and gossip.  Help us grow with love that comes from you.  That we may always appreciate one another's efforts and work towards our goal.  Prevent our tongues from speaking the wrong words to avoid hurting our fellow workers.  I pray this trusting and believing in your holy name.
Amen.
Prayers for the Workplace
Heavenly Father, I thank you for granting me this job.  I am grateful for the skills and the strength that you have provided.  I pray for your wisdom in all of my activities.  Give me the will to overcome any temptations, and let me honor your word in everything I do.  Let me do this job well while practicing your teachings.  I pray for creativity, order, and integrity in my job.  Let me be a blessing to my coworkers, boss, and the community at large.  Bless the work of my hands and that of my peers, and let everything that we do bring glory to you, Lord.  When I am worn out and feel disappointed, renew my spirit, and give me the courage to face another day.  Help me relate well with my fellow employees and, above all, grant us success in whatever we are currently trying to accomplish.  In the name of our Lord.
Amen.
A Short Workplace Prayer
Lord, I come to you now to thank you for the job that you have blessed me with.  I do not take it for granted.  As I face a new day at my job, let your presence be manifested.  We turn to the Holy Spirit asking for the attributes we need to do our jobs well.  Let the work of our hands be of service to every person that we come in contact with today.  Stir in me a new spirit, and let me rejoice in my work with thanksgiving and praise.  May every accomplishment give you glory and honor.  It is my prayer that the goodness of Jesus's work will follow us.  I pray believing and trusting in your name.
Amen.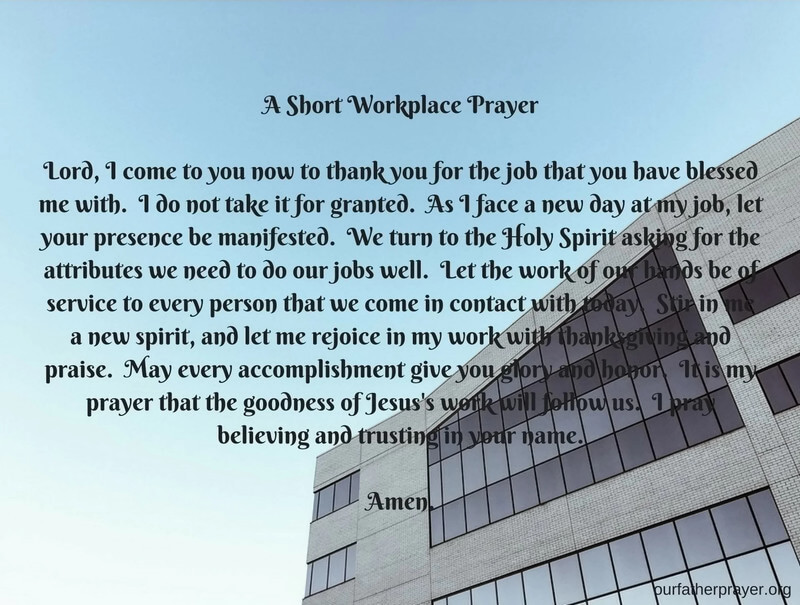 Prayers for Stress at Work
Lord Jesus, I want to thank you for providing me with a job.  It is the reason I am able to provide for my family.  The changes at the workplace are creating a wave of anxiety in me and my coworkers.  The workload and the targets set are way beyond our means.  The stress that builds in me when I am at the workplace is too much to bear.  At the end of the day I'm exhausted, and there are times when I think it might be too much.  Your know my struggles and you never forsake us in our times of need.  I pray that you may give me the ability to cope with the pressure.  There must be a way to soften the hearts of our senior employees.  I pray for your wisdom so I can have a healthy relationship with my coworkers and my boss.   You are a God that desires that we live our lives to the fullest.  I give you all the praise and honor in Jesus name.
Amen.
Jehovah, I know that you know our needs even before we ask.  My job is becoming increasingly stressful, and I finding it difficult to cope with the situation.  I know very well that my life is in your hands.  Landing this job was the best thing that ever happened in my life.  However, the demands of those in authority are beyond the reach of most employees.  To make it worse, the new demands have caused conflicts among my fellow workers.  Everything that is happening at the workplace is too much to withstand.  In the midst of all my troubles, I seek refuge in you God.  I pray for your courage.  May you calm my mind, and give me the strength to make it through this dark time.  I desire to have a feeling of peace to help me better handle my job.  Help us work together as a family.  I ask this in the holy name of Jesus Christ.
Amen.