You made it.  All that hard work has finally paid off.  Now you can relax and enjoy your days until it is time to enter God's magnificent kingdom.  I'm sure it will be an interesting transition, and I'm sure God will be there to help you along.  Here are a few prayers to start off your retirement.
Retirement Prayer
Lord, I confide in you because you understand the situation I am going through.  It is going to be a change going from giving so much time to my job to having all of that time to myself.  Forgive me if I have hurt any of those I've worked with over the years.  Absolve me of my transgressions against my brothers and sisters, and for the other times I have fallen short of your glory.
Thank you for giving me this job so I was able to support myself and my family.  Bless and watch over all of those I will leave behind at the workplace.  I am grateful for all of the individuals I have met over the years.  They have taught me quite a few lessons.
Lord Jesus, as I proceed to retirement my heart is filled with gratitude because I know it was you that helped me get to this point.  I move into retirement with caution, but I know you will be there watching me.
Give me the will and understanding to continue your message now that I have more time.  I need to use this time to help others.  Let my actions be the living testimony of your work.  Bless me with good health, inner peace, and happiness.
Amen.
Prayer for Retirement
Heavenly Father, how I praise and thank you for supporting me on my journey towards my retirement.  Although I find this new period in my life imposing and challenging, I am excited to see where your guidance takes me.  I hope that you lead me in the right direction as my life approaches these new crossroads.  Help me think about this new transition positively.  Allow me to use this experience in whatever capacity you see fit.  Give me the wisdom, motivation, and knowledge I need so I can continue exploring new opportunities.  Present me with the resources necessary to follow your path and bask in your glory.  In this new time in my life, I will serve my purpose from a different perspective.  I hope that you will help keep me in good health so I can have many years ahead.  Allow me to use the talents and passions that you have given me to help my friends and family with the extra time I will have.  I put the rest of my years in your hands dear God.  Please hear my prayer.
Amen.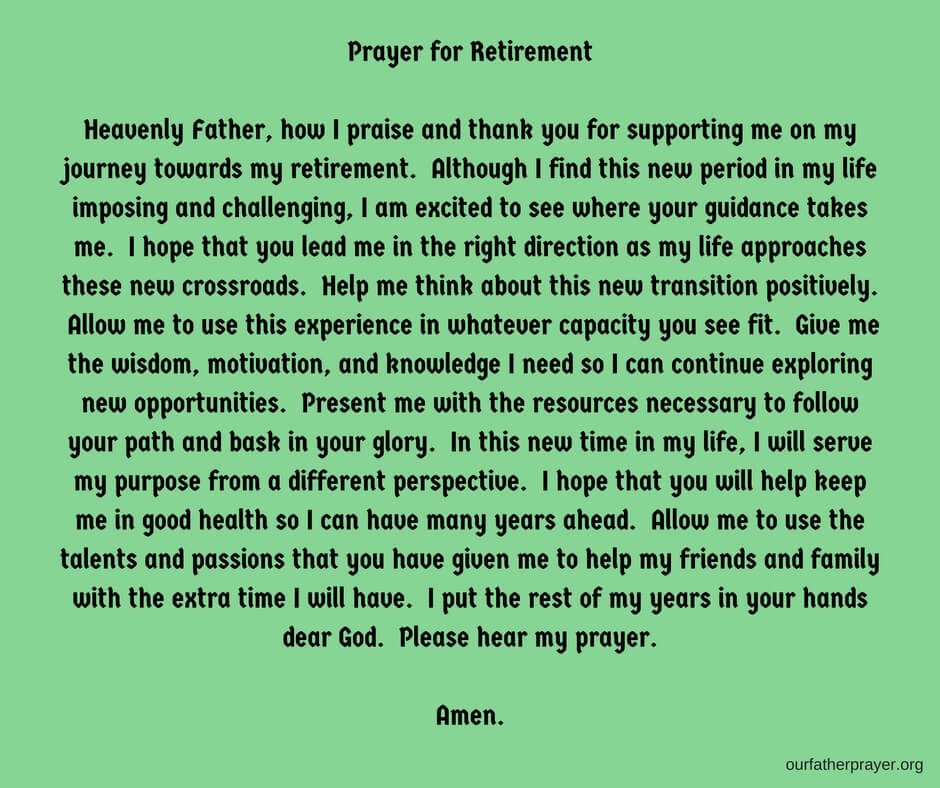 A Short Prayer for Retirement
Jesus, thanks for watching over me all this time.  As I spend the rest of my years retired, bless me with peace of mind and good health.  I appreciate all that you have done for me so far.
Amen.