Prayers for Athletes
My father in heaven, I praise you for having bestowed so many different talents to these gifted athletes.  I want to thank you for giving these people this expertise and allowing me to witness their incredible feats.  You are the author of perfection, and I ask of you to grant these people the spirit of endurance as they play.  Allow these athletes to conduct themselves with respect for each other and the game.  Give them strength to prevent any injury.  If my team or country becomes defeated or victorious, help keep everyone civil and courteous to each other.  God, please give them the grace to set a good example for athletes everywhere.  Through Jesus's name I pray.
Amen.
Sports Prayer
Heavenly Father, I thank you for the incredible talents you have given to us.  We acknowledge that it is all for your glory, and everything we are is because of you.  Allow us to be fair as we play, and help us to remain strong throughout the game.  I pray that you will help us to be our best out there in the field so that we shall display your glory to the rest of the world.  I also ask you to protect us from accidents that happen during this event.  We ask you to be our source of strength even when we feel pushed into a corner by our opponents.  Father, grant us the ability to learn new spiritual aspects every time we go out there.  Holy King, as you are the source of all that is good, help us to show your love to our opponents even if they defeat us.  As you have granted us the grace to acknowledge you as our father, help us to set a positive example as we use the talents you have bestowed upon us.  Remind us that we rely on you, and you alone, for our skills and endurance.  I pray that we shall experience nothing but joy and happiness from this experience.  We do this in your holy name.
Amen.
Athlete's Prayer
Father, I thank you for my ability and my coaches.  You have given me the strength and ability to compete on such a level.  I lift my voice to you, so that in every win and loss, we will glorify your name.  May our love and conviction in the game be seen in our love for you.  Every time we put on our uniform, tie our shoe laces, and step out of the locker room, I ask that you look out for our safety.  There is always risk of injury in our sport.  Help us remember that you have given us this ability so we don't become consumed with pride and arrogance.
Under your authority, help us respect and honor our teammates, competitors, and coaches.  Give us the honor and integrity to continue to abide by the rules of the game.  Make us humble in both victory and loss so we don't embarrass ourselves or others.  Show me the ambitions of other teammates so we can work towards achieving that goal.  Whether I win or not, thank you for giving me this ability to play such an outstanding game.  I pray in the name of Christ, our Lord.
Amen.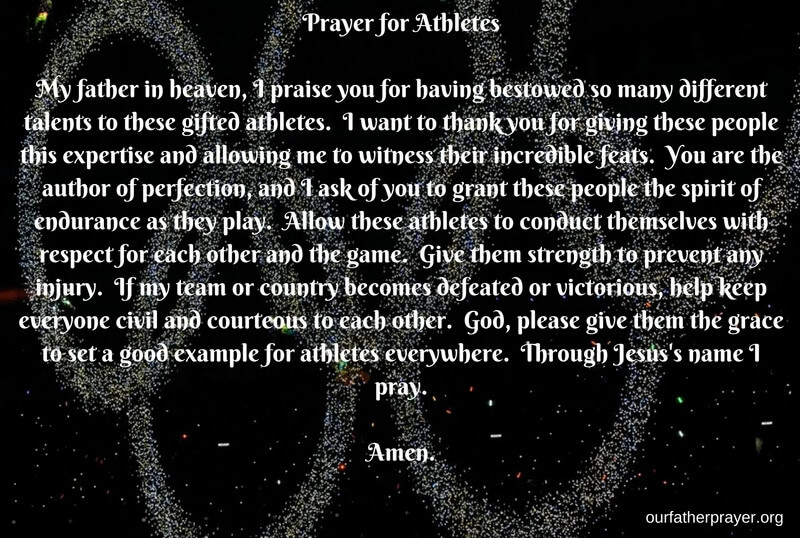 Baseball Prayer
Lord, I thank you so much for the strength you have given me to play.  May you give me the wisdom to know where to throw the ball and not to fall short of my target.  Keep my vision sharp so I know how to react to every pitch.  Give me the energy to work hard so that at the end of everything I may take pride in you, myself, and the game.  When I am in a tough spot, bless me with the wisdom to judge accordingly.  Guide my feet so I avoid missing the base, and ensure that I reach home safely.
When I help another teammate, give me the patience to see it through.  Almighty father, guide my coach to be wise and fair, and to teach us how to be a leader.  Whether I win or lose, keep me civil.  As long as I can participate, help me do my best.  I ask all these in the mighty name of our lord and savior.
Amen.
Prayer for Success in Sports
Lord Jesus, we honor you.  You have created us to always be winners.  I strongly believe that you are in charge of all things and without you, nothing is possible.  You know how critical this sport is to me.  With you, I know that I can conquer all.  I trust that you will help me achieve victory.  I do not depend on my ability or strength, but I come humbly before you asking for your assistance.  When competing, give me endurance and keep me fit so that I can be successful through my efforts.
I will glorify your name once I am victorious.  May the world know through my victory that I am your disciple.  I have confidence that, with you by my side, I will not fail.  Give me the fortitude to endure the physical tasks that I will encounter.  I also pray for the safety of myself and my competitors.  Protect all of us as we compete.  Grant my coach the ability to teach me, not only about the game, but the lessons in life that I need to succeed.  Thank you for being with me.  I pray in your gracious name.
Amen.