Prayer for Encouragement and Hope
Lord, thank you for being my sustainer, provider, and deliverer from the pressures that sometimes renders me hopeless.  As your child, you always help me meet all my needs.  It's because of you that I am always confident.  You hold me by your hand so I can walk through every difficulty that I undergo daily.  It's a fact Lord, that regardless of where I am, you are always with me.  When I decide on anything, you always guide my heart and thoughts.
I commit this day to you.  Although I am struggling with so many things, I ask that you give me encouragement and hope.  Please do not deny me the encouragement to keep trying.  Guide me well to know your desire for my life.  Give me the wisdom and knowledge to always walk in the right direction.  Reveal the Holy Spirit to me so that I may have the energy needed to win over my insecurities and shortfalls.  I just need hope and encouragement that all the things will work according to your good plan.  Help me understand that you are always with me.  I will never lose my faith in you, because you will never lose hope in us.  Just remain by my side, my redeemer.  In Jesus's holy name I pray.
Amen.
Prayer for Encouragement
Lord Almighty, as I take a look inside and notice the potential you have given me, I realize that there is no reason not to push forward.  Everything I need to succeed has already been given to me, therefore with faith and prayers on my side I could do anything.  I can now rejoice, even explode into tears of joy, without fear I may walk, because God is with me.  When it all seems dark and helpless, I know you will be there to encourage me.  Everything seems so surreal when the Holy Spirit is within me.  Your are always there for me even at my worst times.  Whatever I do, I do it heartily for you and not for myself.  I hope all prayers will come back as blessings in my life.  But I have to stay strong with courage so I'm not afraid wherever I go.  Keep pushing me forward by giving me the encouragement I need to overcome this task.  In Jesus's name I pray.
Amen.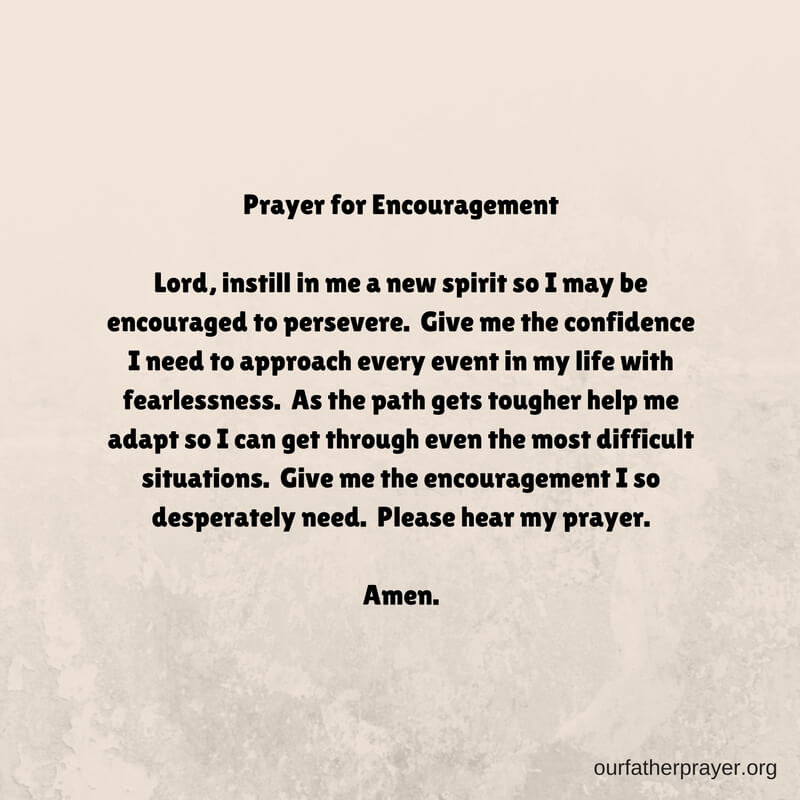 A Short Prayer for Encouragement
Lord, instill in me a new spirit so I may be encouraged to persevere.  Give me the confidence I need to approach each event in my life with fearlessness.  As the path gets tougher help me adapt so I can get through even the most difficult situations.  Give me the encouragement I so desperately need.  Please hear my prayer.
Amen.